I found these two yummy finds on ebay! They are both from the ebay seller armani1031, and would make perfect delicious fall wedding favors for your big day!
The first are personalized autumn themed coffee or tea favors – a favor your guests definitely will not leave behind after a night of fun and dancing at your reception! Each custom envelope is adorned with colorful fall maple leaves and tied with a soft matching bow. The seller works to personalize your favors to your liking – including working with you to choose colors to match your theme, the names and date to be printed on each pack. Visit their ebay auction list and search for maple leaves tea or coffee wedding favors!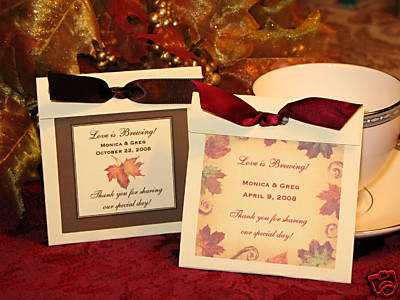 The other autumn themed favor I found is perfect because in most areas the weather is starting to get a little nippy. What would be better than a cup of warm hot cocoa with fluffy mini marshmallows? Armani1031 offers these stylish cones filled with cocoa mix, marshmallows and chocolate chips, personalized with a beautiful fall themed tag. Mmmn..it sounds so good I could go for some right now, I'm sur eyour guests will feel the same when they get home from the gathering. You can find these yummy favors once again by visiting armani1031′s ebay list and searching for "autumn cocoa".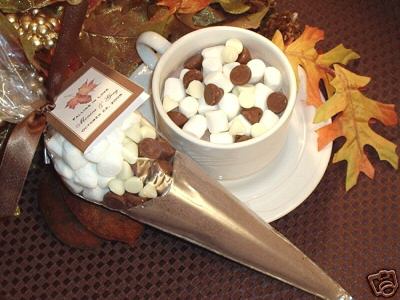 Find any other yummy wedding edibles you think should be shown here? Please comment!