While searching the web this week I found a whole slew of yummy pear goodies that would be absolutely perfect for those of you with a pear themed wedding (The Perfect "Pair/Pear"!). I didn't know there were so many different delicious ideas for this fruit themed wedding!
The first edible I found is a Chocolate Dipped Pear favor by Burdick Chocolates. Each favor consists of a paper thin pear slice dipped in dark chocolate. They are wrapped in a cellophane bag and tied with a silk ribbon that can be personalized with a custom imprinted message. They are delicate and classy and sound like they would be sooo good!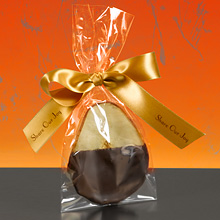 Another pear themed yummy I found that would be fantastic for your wedding day are Chocolate Pear favors. Each chocolate is wrapped in colored foil. I think they are absolutely adorable and who doesn't love chocolate?? These edibles were found at Favors by Lisa.
Another wedding favor I found that would be perfect for your Perfect Pair wedding theme are candy pillow packs filled with candy and personalized with a perfect pair themed band that can be customized with your own special message. You even get to choose the band color and the candy that will be inside the pack! The pillow packs were found at My Wedding Favors.