I can't believe it's almost the Winter Solstice and the Holidays are here! Surfing around online I was in a festive mood and couldn't help browsing around for snowflake themed edible goodies. I came across some stunningly beautiful snowflake wedding cakes and just had to share! They would be perfect for you winter wedding brides looking to dress up your reception with delicate snowflakes.
The first cake I will show you is a stunning white and blue snowflake wedding cake by Diane's Cakes and More. She created a three tier hexagon shaped wedding cake and covered it in smooth white fondant for an elegant feel. Ornate gum paste snowflakes are scattered about the entire cake and a light blue satin ribbon wraps the bottom of each tier. The cake is simple, classy and elegant…
The next snowflake themed cake I found was from the Cake Guru. It is a pure white four tier wedding cake that seems to be frosted in sugary sweet butter cream for a satin finish. A few of the tiers stand on pretty white and transparent seperators making the tiers look like they re almost floating. Beautiful intricate snowflakes adorn the entire cake for a beautiful winter look. Yum.
Another stunning snowflake cake that would be perfect for a winter wonderland theme I found was from Good taste cake designs. They creatively combined intricate snowflakes and elegant white roses (or maybe gardenias?) on their 3 tier wedding cake. The cake looks like it is covered in smooth white fondant with deep blue ribbons of fondant dressing up the bottom of each tier. They also added delicate snowflakes in royal icing on the sides of the cake to continue with the winter theme. Sooo stunning!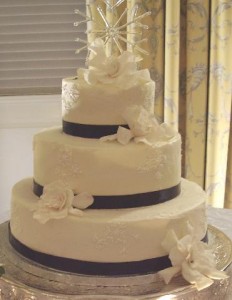 The last cake I will share with you today that was decorating with beautiful snowflakes is by Linda Salamon. It is a small simple three tier wedding cake but it's simplicity stops there! Linda covered the cake in blue and white  fondant and and added intricate blue and white sugary snowflakes and monogrammed letters. It's so pretty and colorful!
That's it for now..perfect for the winter wonderland wedding affair! More to come in later posts