It's almost Valentine's Day and we all know what a huge day this is for weddings! Many brides having a Valentine's  Day wedding will at some point be looking for Valentine's Day wedding cakes. I found some very creative, beautiful wedding cakes, cupcakes and cake pops (or cake balls!) with heart themes that I thought I would share! Any of these delightful pink, red and white edibles would be stunning hits at any Valentine's Day wedding, party or event.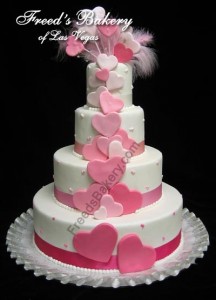 FreedsBakery.com
This rolled fondant cake from Freed's Bakery is decorated with pretty pink and white hearts. I love the added flourish of fluffy pink feathers on top!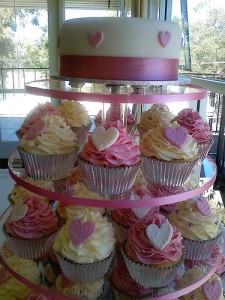 Flickr: American Candy Stand Cupcakes
These heart themed pink and white cupcakes were found on flickr by American Candy Stand Cupcakes. They look mouthwatering! The cut out hearts and foil cupcake liners really make them pop.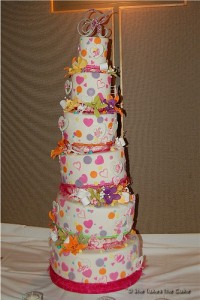 flickr: She takes the cake
I love how colorful this heart themed pastel fondant layer cake is found on flickr by She Takes the Cake. The rainbow of bright pastel colors pulls your eye right to this centerpiece of a wedding cake. It is so gorgeous and yet so fun!
Since cake pops (or cake lollipops) and cake balls are all the rage right now I also found some delicious looking Valentine's Day Heart Themed Wedding Cake Pops that would make yummy Valentine's Day wedding favors or wedding day treats! You can either find a local baker to make some for you or you could try your hand at making them yourself using the tutorial I recently wrote up on DIY Weddings by Wed-Central. Go check it out!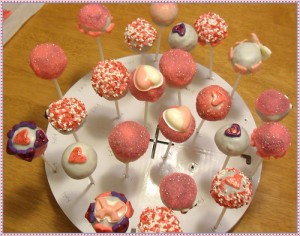 flickr: herocakepops
These cake balls found on flickr by herocakepops are so pretty! There are pink sparkly cake pops, heart themed cake pops and even what seems to be xoxo cake pops too!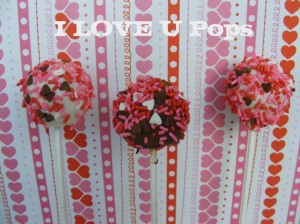 etsy: cakepopshoppe
You can buy these delicious looking valentine heart themed cake pops on etsy from cakepopshoppe. She calls them I love you Pops! I love how they used what looks like white and dark chocolate with the heart sprinkles. Yum! She has all kinds of flavors to choose from if you decide to order. From your basic vanilla or chocolate cake with your choice of frosting to yummy red velvet and strawberry flavored too!
Have you seen any great heart or valentine themed edibles that would be great for a wedding or event? Please share them with us! (They may be used in a future blog post!)